SSL/TLS network validation
The Venafi Trust Protection Platform™ validation feature validates your encryption system certificates and applications to determine if the correct certificate is being used. It also determines if it is functional and if it is installed in the correct place on its associated platform or keystore.
Security, compliance, and technological innovation have introduced new criteria for the validation of certificates and the servers that host them.
Trust Protection Platform offers certificate validation that is easy to use, provides more actionable results, helps assure compliance with industry standards, and supports best security practices.
You can configure validation and see results in

TLS Protect

.
When you view validation results, you can clearly see every target that was scanned for the certificate.
Validation provides complete, qualitative analysis of the certificate chain presented by the hosting server.
Validation identifies the SSL or TLS protocols that the hosting server supports.

Venafi

provides these communication protocols: SSL 2.0, SSL 3.0, TLS 1.0, TLS 1.1, TLS 1.2, TLS 1.3.
Different certificates that are hosted on the same IP address and port can be validated.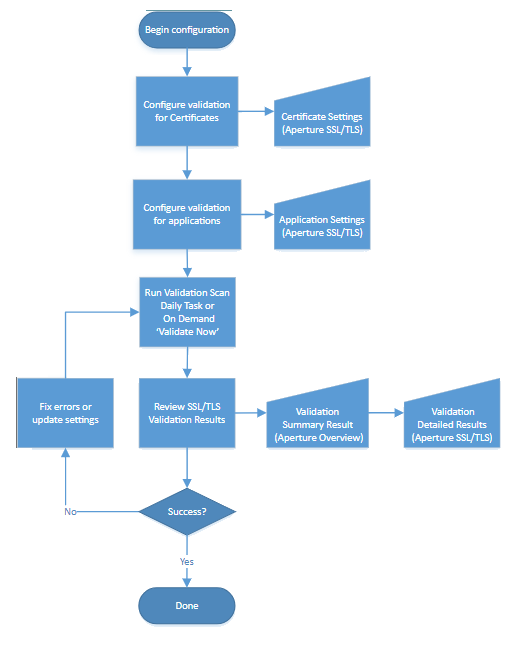 TIP   Each square in the diagram has a corresponding topic in the side navigation menu.
 

Network Validation

What it validates

SSL/ TLS application objects and certificates

What it's looking for

Certificate is functional

Correct certificate is being used

How it works

If the server responds to SSL/TLS request, Trust Protection Platform knows the certificate is functional.

When certificate's serial number is retrieved and compared, Trust Protection Platform can determine if the correct certificate is being used.

If Use Certificate Common Name is enabled, Trust Protection Platform does a DNS lookup of the certificate's common name then validates the certificate at every IP address returned. Results are reported individually.

If you enable Network Validation on the Application object, Trust Protection Platform validates the certificate associated with the Application object.
TIP  To browse topics in this section, use the menu on the left side of this page.